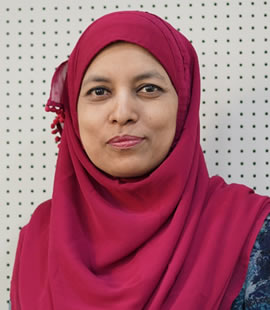 Senior Assistant Professor of General Engineering (Information Communication Systems)
Office
Staff Room 6, C 1.9, First Floor, Block C, Integrated Sciences Building
Email
feroza.begum@ubd.edu.bn
Education/Professional Qualifications
JSPS Postdoctoral Fellowship, University of the Ryukyus, Japan (2009-2011)
Marubun Postdoctoral Fellowship, University of the Ryukyus, Japan (2007-2009)
Ph.D in Electronics and Information Engineering, University of the Ryukyus, Japan (2007)
M.-Eng in Electronic Materials Engineering, University of the Ryukyus, Japan (2004)
BSc in Engineering, Electrical and Electronic Engineering, Dhaka University of Engineering and Technology, Bangladesh (1998)
Teaching Areas
Circuits and Systems; Electronic Instrumentation; Signals and Systems; Introduction to Communication Systems; Optical Communication Systems; Digital Electronics; Engineering Electromagnetics; Engineering Research Methodology etc.
Current Research Activities
Low-Loss Photonic Crystal Fiber for Optical Communication Systems.
Highly Nonlinear Photonic Crystal Fibers Applicable to Medical Imaging and Optical Communications.
Photonic crystal fiber for Terahertz generation.
White light generation based on photonic crystal fibers.
Recent Publications
Izaddeen Kabir Yakasai, Pg Emeroylariffion Abas and Feroza Begum, "Proposal of novel photonic crystal fibre for sensing adulterated petrol and diesel with kerosene in terahertz frequencies," IET Optoelectronics, May 2020.
Ramadhani Sinde, Feroza Begum, Karoli Njau and Shubi Kaijage, "Refining Network Lifetime of Wireless Sensor Network Using Energy‐Efficient Clustering and DRLBased Sleep Scheduling," Sensors, vol. 20, pp. 1540, March 2020.
Izaddeen Kabir Yakasai, Pg Emeroylariffion Abas and Hazwani Suhaimi, Feroza Begum, "Low loss and highly birefringent photonic crystal fibre for terahertz applications," Optik – International Journal for Light and Electron Optics, vol. 206, pp. 164321, March 2020.
Izaddeen Kabir Yakasai, Pg Emeroylariffion Abas, Shubi Felix Kaijage, Wahyu Caesarendra, and Feroza Begum, "Proposal for a Quad-Elliptical Photonic Crystal Fiber for Terahertz Wave Guidance and Sensing Chemical Warfare Liquids," Photonics, vol. 6, no. 3, pp. 1–16, July 2019.
Izaddeen Kabir Yakasai, Pg Emeroylariffion Abas, Sharafat Ali and Feroza Begum, "Modelling and simulation of a porous core photonic crystal fibre for terahertz wave propagation," Optical and Quantum Electronics, vol. 51, no. 4, pp. 1–16, April 2019.
Future Projects
Development of Photonic Crystal Fiber based Physical Sensors

Photonic crystal fibers (PCFs) are a kind of optical fibers that use photonic crystals to form the cladding around the core. Photonic crystals are low-loss periodic dielectric medium constructed using a periodic array of microscopic air holes that run along the entire fiber length. PCF-based sensors are advantageous over standard optical fiber sensors in many aspects. They not only have great design flexibility but also their holey internal structure can be filled with analyte so that a controlled interaction can take place between propagating light and the analyte sample. This greatly enhances the sensitivity of fiber optic sensors as well as opens up a new direction for making advanced portable sensors. PCF sensors have a wide range of applications. Measurement of different physical parameters like temperature, pressure, strain, twist, torsion, curvature, bend, electromagnetic field and refractive index are a few of them. The research and entrepreneurial communities are interested in this topic due to multiple applications of these sensors in various fields, including civil engineering and the aeronautical and automotive industries. The objective of this project is to develop PCFs for sensing any of the aforementioned physical parameters in the optical and terahertz regimes. This shall be achieved through design, simulation, fabrication and characterisation.

Applications of Nanophotonics in Optical Fiber Technology

Nanophotonics is an exciting new field of nano-science that deals with the interaction of light with matter on a nanometer size scale. It is a field in which photonics merges with nanoscience and nanotechnology, providing challenges for fundamental research and creating opportunities for new technologies and applications. Nanotechnologies can be exploited by incorporating nano-features into optical fibers to achieve manipulation of light in ways not possible with conventional optical fiber waveguiding techniques. This additional functionality offers great potential of fiber-based nanotechnology for applications in communications, optical computation and medical technology for optical waveguides.
Research Interests
Optical fiber and Photonics
Photonic Crystal Fiber based Sensors
Optical Fiber Communications
Optical Coherence Tomography
Nanophotonics for Optical Fiber